The so-called professional compact camera niche hasn't seen much activity from Nikon lately. That changed at the end of last summer, when the company introduced the Coolpix P700, a truly remarkable compact camera.
At first sight it is obvious that this is not your typical trendy camera that fits into your pocket. Its robust body and black plastic coating make the camera stand out not only in size, but also in its wide variety of control elements.
A feature that stands out is a superior optical viewfinder, a rare occurrence nowadays, ranking the camera among the top models in its class. Ironically, it's a feature not many people will use – it's small and not as easy to work with as the high resolution LCD display.
With regard to functions, Nikon Coolpix P7000 is a standard camera in its respective class. It has a 1/1.7" CCD sensor with a 10 megapixel chip, the largest available for compact cameras, giving it sizeable image cells and high image quality. The camera also offers a versatile wide angle focus range, starting at 28mm, that is optically stabilized.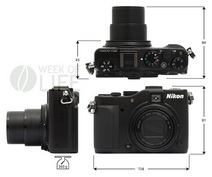 Nikon Coolpix P7000 – in short

Resolution

10 Mpx

Sensor

CCD 1/1,7″

Optics

28–200 mm F2,8–5,6, image stabilization

Video

HD (1 280 × 720 px)
Despite the size restrictions compact cameras have, as opposed to SLRs, manufacturers of such professional cameras always try to add several extra features – and Nikon is no exception. One of these features is a hot shoe for an external flash, even though the camera has its own internal flash. Additionally, a stiff and hardy lens adapter ring allows the user to attach additional optical accessories. For instance, Nikon offers a Wide Angle Converter Lens WC-E75A that extends the original 28mm to a focal length of 21mm (the equivalent of film).
Super features

Excellent image quality
Intuitive operation
Availability of RAW
Large variety of functions
Advanced users, who account for the majority of the customers for such cameras, as a second camera to their SLR, expect a high speed functions response. Nikon knows that, and as a result the Coolpix P7000 has a variety of controls that make the desired functions directly accessible.
The top of the camera offers three control rings. Alongside the standard mode dial, the camera offers a compensation dial that provides control up to ± 3 EV compensation and a manual control dial for fast launching the basic functions such as white balance, ISO and picture quality. Nikon excels in user friendliness and offers custom settings for majority of the functions. Users will find a mode dial that contains up to three custom settings (U1 to U3) and programmable AV/TV and Fn buttons.
Screenshots of the menu of the Nikon Coolpix P7000
Overall evaluationNikon Coolpix P7000 is by all standards an excellent camera. This applies within the category of compact cameras, since it cannot be compared to the much more advanced SLR range. It has excellent image quality; more advanced users will certainly appreciate the availability of the RAW format. Video sequences are also available in HD quality with stereo sound and a mic jack for an external microphone.
The well designed build and controls make it a great camera to have. The only dilemma is the price, since it is in most cases higher than other non-SLRs that have large sensors and better characteristics. On the other hand, the Nikon Coolpix P7000 still remains much more compact than the SLRs, despite its rather large size in its category.
Common price (at the time of this review being published):  $379.00
Basic technical data for Nikon Coolpix P7000
Sensor
CCD 10 Mpx, 1/1.7″
10 Mpx (3 648 × 2 736 px)
Light sensitivity ISO 100 to 6,400
Optics
28–200 mm F2.8–5.6
Stabilized optics
Memory medium
SD/SDHC/SDXC, 79 MB internal memory
Data formats
Image: JPEG, NRW
Video: MOV
Video
1,280 × 720 px, 24 fps
640 × 480 px, 30 fps
320 × 240 px, 30 fps
Stereo sound, mic jack for external microphone
Display LCD
Screen size 3″ (76 mm)
921 000 px
Viewfinder
Elektronic
1 440 000 px
Power SupplyLi-Ion battery
Dimensions and weight4.49" × 3.19" × 1.77" inches (w × h × d)
360 g (incl. battery and memory card)