After a long search, I actually picked a photograph that was 15 years old. It was for a job order, meant for the cover page of a periodical. In those days, Disco land Sylvie (named after the owner's daughter), owned by Mr. Jonák, was frequently occupied by the 'elite' of the decade, along with Karel Gott, Lucie Bílá, Paľo Habera, Petr Janda, the ex-minister of culture Jandák and many more. Many parties and celebrations ended there, album release parties took place quite often, simply speaking; it was the place to be seen and noticed.
However, it was no easy task to get an audience from Mr. Jonák, it was rather scary in fact. In the end, I was quite lucky as a very well known lawyer made it happen, whom I portrayed in the past. I made a coverage of the place and people in show business, later published by several magazines; this opened the door for me to Ivan Jonák.
And finally regarding this portrait, receiving an honorable mention at the CCP in the category 'Most talked about people', succeeding in Europe as well. It was then claimed that he ordered a hit on his wife and her lover, in the year 1994 (sentenced in 2002 to an unconditional 18 years in prison, serving his sentence in the Valdice prison), was shot himself with his car also being a target of a ranged attack. The whole documentary portrait started when I called Mr. Jonák to ask him if he was willing to be portrayed. He agreed and was even willing to leave his 'castle', meaning his club, which resembled a fortress, entirely from concrete and behind bars, with an apartment at the top. We arranged that he'll wear his traditional white suit and on the way to the studio, he asked me if we could stop by 'his' jeweler; he was very proud of his jewelry and wanted it to be polished. For instance, on his gun-handling arm, he had rings and a bracelet in the shape of a trilobite, which he supposedly found in his childhood, all in white gold and dotted with diamonds.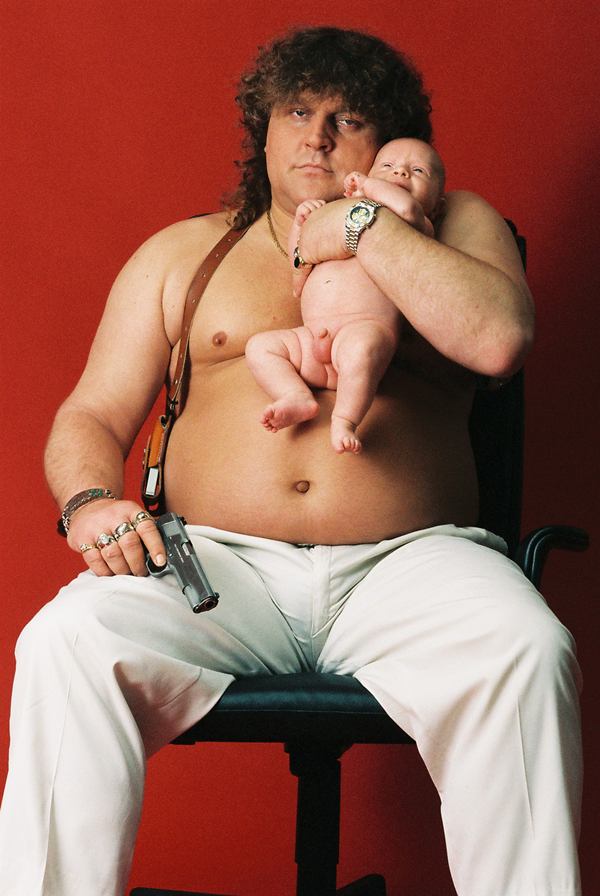 In his armored car, his bodyguards were obviously present, as well as his two months old son. We arrived at the studio 3 hours later, with the way approximately 15 kilometers long. Already in the studio, I asked him if he could hold his naked son in his hands (still in his suit then) along with his gun which he always carried around (he purchased this kind of gun supposedly because A. Schwarzenegger had the same one), with the 'son-gun' scenario being my intention from the start. After a while, roughly 2 cine-films later, the atmosphere lightened up and mainly thanks to his son, who was in great mood and loosened up so much, that the formerly white jacket was no longer white. That was only a small step towards acquiring this picture. I wanted to portray everything, basically his whole life, as he was the 'uncrowned king of the underworld' based on public opinion, along with being a proud father. This is the story behind one of my documentary portraits and you can judge if I was accurate and spot on by the medium of WoL.