(In memory of Andrea)
At the beginning, it was coincidence, a short meeting and a simple question, as it usually is with interesting projects. Words became action and coincidence turned into an extraordinary set of photos. I photographed a job order where the main theme was a woman's body; a nude woman's body to be exact. For these kinds of projects, I usually choose the models myself since picking the wrong ones tends to turn against you at one point or the other. This time, I let the casting agency choose one for me. This small exception to my habits paid off in sense that I met a 'perfect object' for one of the most interesting calendars I've ever photographed.
This so called 'object' was called Andrea Absolonová and she was 20 years old. It all started with a question directed at her body and that it looks as if she was some kind of a professional diver. The answer was rather apposite. Andrea Absolonová was a multiple state champion in the Czech Republic and a bronze medalist of the European Championship in diving. Another question came to mind, regarding the reason why such a successful athlete has to earn money on the side being a model. This answer was no less apposite as the previous one. Andrea simply had to earn money to be able to afford rent for the swimming pool. Her situation then was not at all easy. After being denied an utterly clear and deserved nomination for the Olympic Games in Atlanta by public officials desperate to travel themselves, her main objective and goal was to qualify for the Olympics in Sydney in 2000.
It doesn't take long for a photographer to realize how to combine a young athlete, a conflict based on the short-sightedness of the bosses up top and the correct expression of an opinion into a common ensemble full of controversial photos. The idea was born; it was only a matter of capturing Andrea performing her 'Olympic jump' naked, with nudity symbolizing independence and the ability to break the bond with anything that can hamper human endeavor. The problem was that this kind of production costs money and someone has to pay for it, so I started thinking about who to offer these fairly demanding photographic images to in today's world full of corny adverts and misunderstood artistic intentions. However, it did not take long. Fully explaining the idea, I managed to inspire the mind of Miroslav Houška, the former creative director of I.P advertising; perhaps this was even the beginning of trust and confidence in this company, since later on, I became the creative manager of the branch in Prague of this firm, already with a new name W.I.P. advertising – but that is a different story….
The final decision was made – a company calendar for the year 1999.
The implementation of the project obviously began with a conversation between me and the actress herself, Andrea, since it's not common for professional platform divers to jump into the water in 'Eve's robe' – naked. This part of the project was a total success, as both parties involved shared the 'let's do this' attitude. The premises chosen for the execution of this project was the sports facility in Pardubice, where Andrea's 'home' swimming pool was located.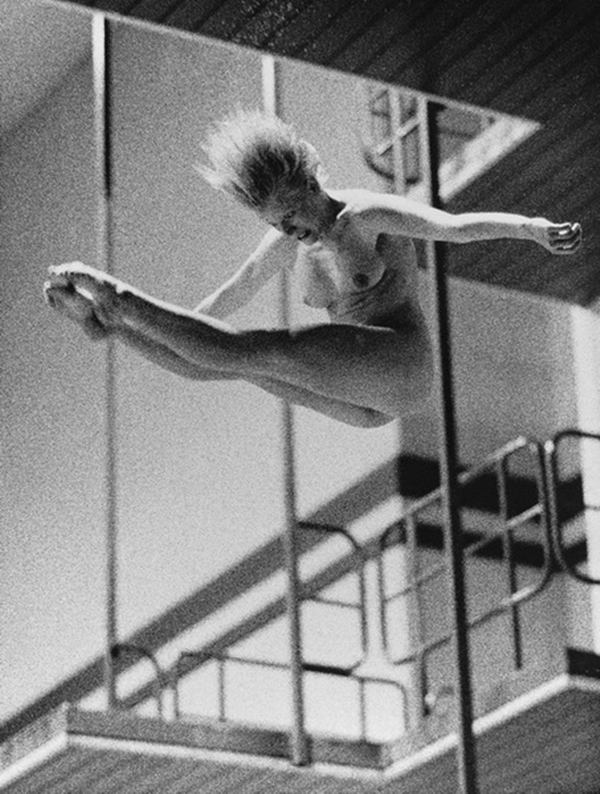 Along with the creative director of the already mentioned advertising agency, I arrived to the place a few hours earlier, before the public closing hours of the swimming pool. Yes, closing hours, because I simply cannot imagine doing my job as a photographer in a fully operating swimming pool, especially with such an interesting and perhaps controversial project at hand.
For quite a while, I pondered about which photographic equipment I should choose for this project, especially since I deliberately wanted to exclude any kind of flash apparatus in order to maintain the feel of the lucid atmosphere. Kodak helped me make the decision, supplying the cine film Kodak T-MAX 3200 ISO. I picked this celluloid for two reasons; Firstly, for its unique ability to expose objects in the toughest luminary conditions. Secondly, for a relatively large amount of noise, supposed to create the atmosphere of a document and a report simultaneously. I brought along most of my photographic equipment as usual to make sure everything continued according to plan. I was ready for every situation, at least at that moment, I was sure of it. The bigger the surprise when I took out the first lens and realized it was misty and steamed-up from top to bottom. I tried the remaining lenses, but the same problem remained. Simply speaking, I did not realize humidity can cause such problems so I was slightly taken by surprise. It took me almost an hour to get rid of this small technical problem and press the shutter button for the first time. We finally began roughly around half past nine. Well, not exactly, as we needed to choose which jump will fit our cause the most and what level of height will suffice before anything else. We were also trying to decide between a 7 meter platform and a 3 and a half meter springboard. For larger proximity and better water surface reflection we went with the 3 ½ meter springboard. First tests and practice jumps were made with the swimsuit on in the presence of a video camera and all members of the team waiting for 'that' moment. Nevertheless, Andrea continued her jumps 'dressed' and was rather reserved, hesitating to take her swimsuit off. So, we sent all the redundant 'producers' away and pursued our goal. Andrea carried on with her jumps, but still in her swimsuit. I started to be a little nervous, but at the same time I didn't want to be the one to give the 'take everything off' order. After the next jump, I was afraid that we have misunderstood each other when arranging the terms, so I carefully implied that now is the time for real action. Another jump in the swimsuit followed and I started to feel the whole project will become one large fiasco, only to gaze upon the spring board to see Andrea in the dress code we have arranged, finally being able to document a thirty minute performance of the most interesting jumps in Andrea's life.
In less than half an hour, I captured roughly fifteen jumps and used up about ten celluloid films. Naturally, I had little time to think about any kind of arrangement in such swiftness of a human body, therefore I used motor-driven winding and was able to take almost 6 images per second. I used my favorite lens Nikor 85mm 1.8 D; a larger one would perhaps make great photos of a person standing on the platform, but would not be able to capture light conditions correctly. I stayed within the shutter speed frame of 250 to 500, wanting to keep at least F2.8 due to the light conditions; and for better movement I used a tripod with very loose articulation. Out of all my cameras, I picked my favorite Nikon F4. I made all calculations manually at three positions and made the respective diameter in the way that even the slightest reflection of water was visible on her naked body.
While picking out the best out of 400, we came to realize that the resulting 6 images were all on 2 celluloid films only. Perhaps even more interesting was the fact the three of those photos were captured consecutively and at the very end of the celluloid, images 35, 36 and 36A. Boldness and courage simply take you further. The whole photo shoot was a success and it continued with a billboard campaign in the Czech Republic and Austria, sponsored by W.I.P. Advertising Ltd.
After the calendar was done, I haven't met Andrea for more than three years. Then one day, I met with a friend and found out that Andrea abandoned her dreams, closed the chapter of professional platform diving and became a porn star. She must have transferred her Olympic ambitions into this field, as she was supposedly well known world-wide. Even though it shocked everyone who knew her, Andrea lived her life as if there was no tomorrow. According to her friends, she was finally able to afford and indulge in her favorite adrenaline sports, a dog and a house, where she planned to establish her own 'home' with her partner. In the eyes of others, Andrea lived her life on full throttle. In 2004, some reporter stopped by and wanted to have a chat about Andrea Absolonová. I had no idea what it was about. He informed me that earlier that year, Andrea lost the fight with a deadly type of cancerous brain tumor. It was a very frustrating and sad afternoon during which I failed to speak a single word. The fact that I knew Andrea's story made the news of her death even harder to accept. It has touched me and affected me for a long, sad period of time.
Adolf Zika