The walking mask of the Zetor 25 is the best and most successful photograph I have ever created. I have been waiting for a similar image to come for years.This photograph has many stories, all of which started with the desire of my father-in-law, Mr.Prčík, to buy the Zetor 25 K tractor. He managed to lay hands on one that was in an immobile state, traveling far to buy it in order to fulfill one of his dreams. At the time, his son František was 12 years old and believe it or not, he easily outshined much older students of the agriculture mechanics and maintenance field. He was as well in an elated state. First he removed the rusty bolts and the mask of the radiator. It was rather heavy, so he lifted the whole thing and kept showing it to everyone that it's finally down. Since this moment, another tractor was added to the collection of the Prčík family, so today, there are 3 tractors, 50 years old in average, parked in the barn.
This is one side of the story, important for the male side of the Prčík family. There is another story however, connected to the origin of the photograph. I owned a top-notch digital camera with professional optics for documentary making. They claim that the level of equipment does not play a significant role in the resulting images, but I have to admit that in this case, it played a vital role. Everything was on the edge. Maximum ISO, low aperture and a slow shutter speed – all negative factors. When Fanda a.k.a. 'Walking radiator' passed by me, I set the camera to capture 8 frames per second at maximum focus. When browsing through what I was able to capture, this image came up. The rest was blurry or badly composed. There was a single image of better quality and I must say that I was quite lucky that it was this one.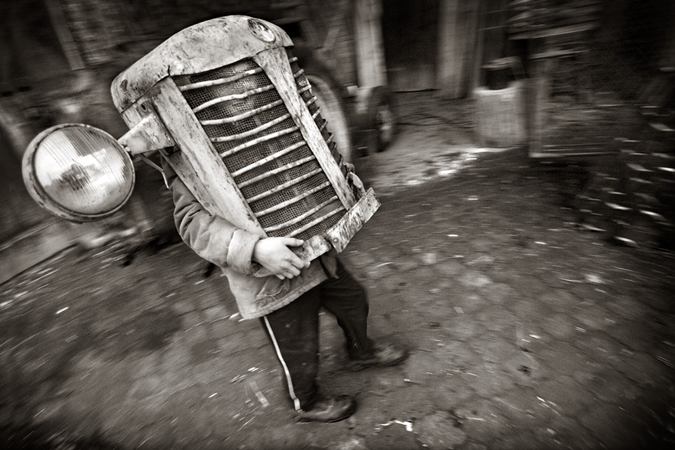 The story does not end here. I entered a series of pictures named 'Our own Zetor' into the Czech Press Photo 2008 competition and it won the 3rd prize in the 'Everyday life' category. While accepting the prize, I managed to capture an image of Mr. President Václav Klaus looking over this photo. When I showed Mr. Prčík the photo of the president looking at the Prčík family from the tiny village of Slup, he was delighted and honored. The photo now has its righteous place on the veranda and is proudly presented to everyone that comes for a visit.
Last but not least is the story from recent days. I received an email from an amateur band called Dr. Zetor from Slovakia. They are hoping to use the photo for the cover of their album.