The photograph I would like to tell you about today seemed not nearly as ambitious when it was born as it does today! It captures two elderly ladies in wheelchairs that are united certainly by more than just dark colored nurses. For instance, they are tied together by a passion for fashion trends–at least that's how I see it.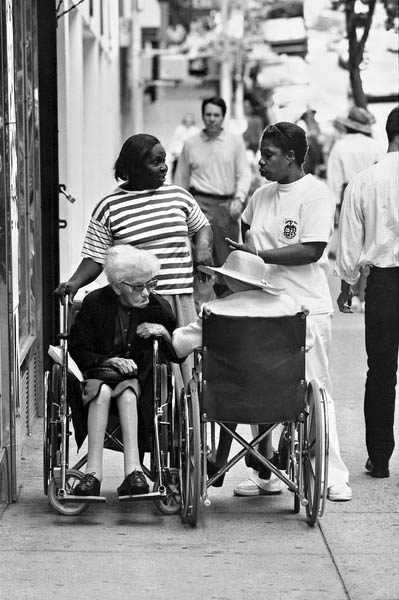 The image was created in 1996 on Fashion Avenue in New York, at about two o'clock in the afternoon. It was not made with any higher intention or even arranged ahead of time. As quickly as it came, it also left. I even remember than I only turned around to take it and exposed only three fields. It was not worth taking more because it created itself. Almost two years after I took it, nothing happened with it and in fact, it had had a sort of photographic vacation. It lied filed in my archive and waited for someone to remember it. In 1998 I enlarged it for the first time and showed it to a few people. And its story started right here. Opinions of it were so contradictory and differed in so many aspects that I became more and more interested.
A few years ago, when I started preparing my first photographic publication for exhibitions, I deliberately included it in my selection. My 'advisors' laughed, frowned, fell silent, but, most importantly, discussed. The turning point arose when my good photographic friend Honza Šibík came to my studio. A photographer of significant events, turmoil, and wars, whom I respect not only for his work but also for his modesty and goodness as such, his opinion on this photograph was unusually critical. He saw even cruelty and indiscretion to the situation on my part, and from the very beginning he perceived it as an inhumane photograph. This view was very interesting for me and I concerned myself with the photograph all the more. When we later met in New York and talked about my Portfolio, he did not forget to point out that he still maintains his view. Simply a second-rate photograph that does not belong to an exhibition of my photographs that he says he likes so much. I did not take Honza's opinion as a reproach or criticism. I tried to learn from it and move on. I mean it in the sense that it is very important to observe who reacts and how to your photographs. To understand differences in people's feelings in this way.
A few days before this article was published in print medium I visited my friend and teacher who is fifty years my senior, Mr. Jaroslav Krejčí, a renowned graphic artist and theater photographer, a man who taught at FAMU for twenty years and through whose hands have passed such students as Tono Stano. Mr. Krejčí was very tired that day, and so we sat in his apartment in Prague's Small Side, drank coffee, and I listened to all possible useful things. I could not wait to hear an opinion on my new publication that he'd had in his hands for several days already and had not yet expressed an opinion. But it was not forthcoming and I was a little uneasy. Could it be that it was the one photograph that opinions would be much alike? About two hours later we finished talking and I was saying good bye. My teacher showed me to the door and on my way down the stairs I could not bear the fact that he had not said a single word about my publication. At the door we said goodbye and as his last sentence, he said. "I would throw out a third of the photographs from the catalog." I did not breathe a word and perhaps my heart skipped a beat or two. "The rest is very good. But you really surprised me with one." A moment of silence followed. "The granddames are powerful, that's the best photo!" I don't think I added anything to this. I thanked him and was off.
I write this all to become all the more aware of the power of photography. Both of them were right, they had their truth, which they felt as such. And that sometimes seems extremely rare to me, when I see how many words, opinions, emotions can be produced by a black and white enlargement. Take photographs and ask people around you what they think about them. Or perhaps even let them be silent.
PS: I would like to dedicate this humble text as a memory of my old teacher, today unfortunately the late pedagogue, photographer, graphic and visual artist Jaroslav Krejčí.