There are many photographers, who get along with a lens with a fixed focal length, but many people prefer zoom lenses – lenses with a variable focal length. And quite a few users love the so-called wide-range zooms, which can "zoom" ten times and more.
The so-called ultra-zoom category of digital cameras has a 10× and higher range of zoom and is divided into two sub-categories. One includes "large" ultra-zooms, which look like a small reflex camera and are equipped with an electronic viewfinder and optics with a range of up to an impressive 24×. The second sub-category lines up the more or less pocket ultra-zooms without a viewfinder (that have only the backside LCD display) with the standard 10× optics range. Sony Cyber-shot DSC-H20 belongs to the cameras of the latter category.
| | |
| --- | --- |
| | |
Sony designers have given this camera a purely functional design without unnecessary excesses. The dominant feature of the right side of the device in black "photographic color" is a rather large grip – a handle for better grasp. With a camera with a zoom range of 38 – 380 mm, a firm grip is a prerequisite for sharp images even though the camera does come equipped with an effective optical stabilizer. Sony H20 does not disappoint in this respect – even when 'zooming' out to 380 mm, when you pull in very distant objects with the zoom, the images taken are very sharp, without shake or blur.
Sony Cyber-shot DSC-H20 – in short
Resolution
10 Mpx
Optics
38–380 mm, stabilization
Video
HD (1 280 × 720 px)
On the other hand, you might miss the option of a wide angle image. Thirty-eight millimeters of zoom for the H20 can be considered normal rather than a wide angle view.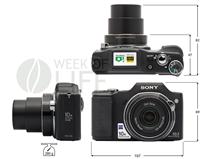 Sony H20 is not a large camera – it will not fit in your shirt pocket but can be managed with a small bag. It can even fit in the pocket of a pair of pants.
Super features
Wide range zoom
Smile Shutter – automatic capturing when it recognizes a smile
Quality photo and video
The lens is not equipped with an automatic multi-plate cover but you will find a classic mounting cover with a strap in the kit. The built-in flash, which is rather powerful for its class, is designed as tilting. If you have it enabled in the menu, the flash will automatically open when the light is low.
Sony Cyber-shot DSC-H20 is conceived primarily as an automatic digital camera with the option of user influence on the basic parameters, such as correction of exposure, sensitivity, white balance, focus method, etc. However, you will also find an M in the top round mode control – manual mode for experienced photographers. This mode has one drawback, though, whereas exposure times can be manually set in the whole range (30 s up to 1/2 000 s), the shutter can only be operated in two settings – fully opened or fully closed.
The device is equipped with several interesting functions. Face detection has become common these days, but with Sony H20 it is complemented with smile detection (which can be set in three intensities – see menu examples). How does it work? You activate the so-called Smile shutter using a button on the top side below the main power switch and point the camera at the person being photographed. The device itself will find the face and as soon as the person in the shot smiles, it will automatically – without you having to press the trigger – take a photograph. Tested in practice – it really works.
Overall evaluation
In spite of the fact that Sony Cyber-shot DSC-H20 looks at first glance like one of many common digital compacts, it is a camera which provides excellent image quality. Sony used several technologies for image processing, which originate from advanced reflex cameras, and this can be seen in the photographs. The images have good depth; the color scheme is rather moderate – H20 definitely does not suffer from over-saturation of photographs.
Operating the camera is not difficult and is based on common existing standards. The camera is quite fast for its class, which will be apparent to users mainly with the agile automatic focusing. Sony H20 can be recommended both to absolute beginners as well as to more experienced photographers.
Common price (at the time of this review's publication): $349
Basic technical data
Sensor
CCD 1/2.3″
10 Mpx (3,648 × 2,736 px)
Sensitivity ISO 80 to 3,200
Optics
38–380 mm F3.5–4.4
Optical stabilization
Memory medium
Memory Stick Duo, PRO Duo, PRO-HG Duo
Data formats
Image: JPEG
Video: MP4
Video
1,280 × 720 px, 30 fps
640 × 480 px, 30 fps
Mono sound
LCD
Screen size 3" (76 mm)
230,400 px
Power supply
Li-Ion battery
Dimensions and weight
107 × 69 × 47 mm (w × h × d)
280 g (incl. battery and memory card)