V segmentu takzvaných profesionálních kompaktů, tedy nejvyspělejších digitálních fotoaparátů s malým snímačem a pevnou optikou, Nikon nebyl v posledních letech příliš aktivní. To se změnilo na konci letošního léta, kdy uvedl na trh skutečně pozoruhodný kompakt Coolpix P7000.
Už první pohled na tento fotoaparát jasně naznačuje, že se nejedná o stylovku do kapsičky od saka. Robustní přístroj v černém plastu vyčnívá nejen svojí velikostí, ale také osazením velkým množstvím ovládacích prvků na těle.
Zaujme také vybavení optickým průhledovým hledáčkem, což je v současné době velmi nezvyklé a ojedinělé, a zároveň řadí tento aparát do nejvyšší třídy. Trochu paradoxně ale pravděpodobně většina uživatelů hledáček moc využívat nebude – je malý a neposkytuje takový komfort zobrazení jako rozměrný zadní LCD s vysokým rozlišením.
Nikon Coolpix P7000 je co do "vnitřností" typickým reprezentantem přístrojů této třídy. Je osazen CCD snímačem o úhlopříčce 1/1,7″, tedy v současné době největším čipem do kompaktů s uměřeným rozlišením 10 megapixelů. To je zárukou relativně velkých obrazových buněk a tím i výborné kvality obrazu – o tom dále v této recenzi. Optika má pěkný sedminásobný rozsah, příjemné je, že začíná na širokoúhlém ohnisku 28 mm. Samozřejmostí je stabilizace optických členů.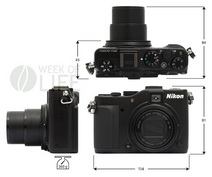 Nikon Coolpix P7000 – ve zkratce

Rozlišení

10 Mpx

Snímač

CCD 1/1,7″

Optika

28–200 mm F2,8–5,6, stabilizace

Video

HD (1 280 × 720 px)
Přestože je modularita kompaktních fotoaparátů například oproti zrcadlovkám značně omezena, snaží se výrobci alespoň u těchto profikompaktů zajistit něco málo možností rozšíření přístroje – Nikon samozřejmě není výjimkou. Sáňky na externí systémové blesky jsou tím nejjednodušším, byť k dispozici je samozřejmě i malý vysunovací interní blesk. Snímatelný prstenec kolem objektivu pak kryje bajonetové uchycení redukčního tubusu, na nějž lze nasadit filtry, předsádky a další přídavné optické prvky. Nikon například dodává širokoúhlou předsádku Wideangle Converter Lens WC-E75A, která rozšíří stávající 28mm ohnisko na 21 mm (ekvivalent kinofilmu).
Super vychytávky

Výborná obrazová kvalita
Dobře navržené ovládání
Možnost fotografovat do RAWu
Špičkové vybavení funkcemi
Vyspělí uživatelé, kteří si kupují fotoaparáty této třídy – obvykle jako doplněk k digitální zrcadlovce – požadují také podobně rychlé ovládání. To v Nikonu samozřejmě dobře vědí a model Coolpix P7000 vybavili velkým množstvím ovládacích prvků přímého přístupu k funkcím.
Na horní stěně najdete hned tři kruhové voliče. Kromě obligátního voliče provozních režimů je vpravo korekce expozice v rozsahu ±3 EV řešená taktéž formou "analogového" kolečka a konečně na protější straně horní stěny pak multifunkční volič, umožňující rychlý přístup například k vyvážení bílé, nastavení citlivosti, kvality snímku apod.
Nikon je mistrem v možnostech uživatelského nastavení tohoto fotoaparátu – přizpůsobit vlastním potřebám si můžete nadstandardně mnoho funkcí a vlastností. Ostatně polohy U1 až U3 na hlavním voliči režimů představují tři uživatelské módy, předefinovat lze ale také tlačítko Av/Tv či Fn na přední stěně.
Ukázky menu fotoaparátu Nikon Coolpix P7000
Celkové hodnocení
Nikon Coolpix P7000 je třeba hodnotit po všech stránkách jako vynikající fotoaparát. Bavíme se samozřejmě o kategorii nejvyspělejších kompaktů – se zrcadlovkami jej nelze srovnávat. Ve své třídě jde o přístroj s výbornou obrazovou kvalitou, vyspělí uživatelé pochopitelně ocení možnost snímání do RAWu. Na své si přijdou i zájemci o pořizování videosekvencí – HD video z tohoto aparátu je velmi kvalitní, se stereofonním zvukem a možností připojit externí mikrofon.
O kvalitní konstrukci a dobře navrženém ovládání již zmínka byla, nezbývá tedy než konstatovat, že jde o výborný přístroj. Dilema ale navodí pohled na cenovku, která je srovnatelná s nejednou "nezrcadlovkou" vybavenou větším snímačem s ještě lepšími vlastnostmi. Na druhou stranu, Nikon Coolpix P7000 bude i přes velké rozměry ve své třídě prozatím vždy kompaktnější než drtivá většina "nezrcadlovek".
Základní technické údaje Nikon Coolpix P7000
Snímač
CCD 10 Mpx, 1/1,7″
10 Mpx (3 648 × 2 736 px)
Citlivost ISO 100 až 6 400

Optika
28–200 mm F2,8–5,6
Stabilizovaná optika
Paměťové médium
SD/SDHC/SDXC, 79 MB interní paměť
Datové formáty
Obraz: JPEG, NRW
Video: MOV
Video

1 280 × 720 px, 24 fps
640 × 480 px, 30 fps
320 × 240 px, 30 fps
Zvuk stereo, možnost externího mikrofonu
Displej

Typ LCD
Úhlopříčka 3″ (76 mm)
921 000 px
Hledáček
Elektronický
1 440 000 px
Napájení
Li-Ion akumulátor
Rozměry a hmotnost
114 × 81 × 45 mm (š × v × h)
360 g (vč. akumulátoru a paměťové karty)
| | | |
| --- | --- | --- |
| | Chcete znát názor foto specialisty, případně shlédnout krátkou videoprezentaci fotoaparátu Nikon Coolpix P7000? | |