How many times have you missed out on an opportunity to take a wonderful photograph just because you did not bring your camera along? You simply had too many things to carry and weren't bothered to handle an additional piece. There are countless reasons that limit our photographic ambitions. These limitations are however very influential concerning the Week of Life members, since if they were without a camera, the project just wouldn't be the same. So why not try a compact camera that you can carry around at all times?
Ultra-compact digital cameras are no longer an image item fit for a woman's purse without real sense for photography. With the use of modern optics and latest sensors, they have become fully-fledged photographic tools with a quality image output. All of this applies to Sony Cyber-shot DSC TX7.
The TX line from Sony resembles flat 'snuffbox' lookalikes with an attractive design in three colors. The periscope structure of the lens is placed vertically within the body – it doesn't eject when zooming so that the outer form of the camera remains unchanged. The only movable part is the relatively spacious sliding lens cover, which also serves as the on/off switch.
The fact that you can find only a few control components on the camera does not mean that the manufacturers wanted to save resources. The reason is different – Sony TX7 is equipped with a touch-screen where most of the functions are controlled. 3 and a half inch display covers most of the rear side of the camera, with only a small space on the right assigned for a better hold of the camera. As a matter of fact, this does not really help the ergonomics – the structure simply pays a fine for its minimized dimensions.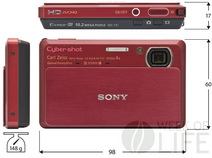 Sony Cyber-shot DSC-TX7  – in short

Resolution

10 Mpx

Optics

25–100 mm, lens-stabilization

Video

Full HD (1 920 ×
1 080 px)
On the other hand, a camera, not much bigger than a credit card weighing less than 20 decagrams, displays its charm with its small dimensions, never interfering with what you are doing, no matter if the camera is in your pocket, your hand or in a small stylish case. Even without using any protective accessories, you do not need to worry about damaging the lens – when the camera is turned off, it is protected by a sizable sliding cover. An 'interesting' feature comes with the ON/OFF button placed at the top of the camera. As a matter of fact, its only purpose is to turn off the camera while in view mode when the slider is in the 'off' position (you can access the mode by holding the view button). Also, take notice of the untraditional way the zooming lever in the right hand corner has been designed.
| | |
| --- | --- |
| | |
Minimized dimensions of the Sony TX7 forced the manufacturers to reduce the size of the communication interface. Instead of the basic set of connectors, there is only one, slightly bigger than usual. It is connected to a desktop cradle, included in the basic package. The cradle then has standard connectors (power supply, USB, A/V, HDMI). As it seems, Sony seems to be receding from their memory cards Memory Stick, or rather giving the users a choice between these memory cards and SD cards that are cheaper and much more widespread. There is a dual slot for memory cards and it is really up to you which one you decide to choose. The SD supports the newest standard SDXC, so there aren't any limitations.
| | |
| --- | --- |
| | |
Even though Sony TX7 is regarded as an exposure automatic camera, it naturally has basic functions such as exposure compensation, custom white balance and others. It wouldn't be a Sony camera without the smile detection feature or a so called 'Intelligent panorama', where a 'noodle-shaped' image is acquired by simply holding on to a shutter button and then automatically arranged into a single photographic panorama. This stylish compact camera is also intriguing with its 10 framers per second in the highest resolution.
Super features
Hand held dimensions and elegant design
Wide-angled, fully enclosed optics
Excellent photo and video functions
Image quality is surely essential. The wide-angled lens starting at 25mm is first rate in its class, followed by a sensor of the same quality. It's a Sony Exmore R CMOS sensor, equipped with Back Illuminated technology, which in basic terms means higher activity of cells due to the relocation of data bus pieces on the other side of the chip. By acquiring more space, the sensor has a higher input, which causes the increase of sensitivity by 1 EV, the producers claim. In other words, there is less noise and we can confirm that thanks to our own experience – based on these facts, Sony TX7 really does belong amongst the best compact cameras.
Screenshots of the menu of Sony Cyber-shot DSC-TX7
Overall evaluation
As previously mentioned, Sony Cyber-shot DSC-TX7 is not just another stylish outburst, but a camera which excels with its ultra-compact dimensions and elegant design, as well as an outstanding image quality. Many of you will definitely be interested in the wide-angled lens, others will appreciate a quality video recording in Full HD resolution and AVCHD coding. Controlling the camera on the touch screen is fast and convenient and the menu supports most of the world languages, Czech included. The capacity of the battery is solid, while the response time is very supple. In short, it's an efficient camera for daily use – a perfect choice for Week of Life members.
Common Price (at the time of this review being published): $349.99
Basic technical data of Sony Cyber-shot DSC-TX7
Sensor

CMOR Exmor R 1/2,4″
10 Mpx (3 648 × 2 736 px)
Light sensitivity ISO 125 to 3 200

Optics

25–100 mm F3,5–4,6
Lens stabilization
Memory medium

Memory Stick Duo/PRO Duo/PRO-HG Duo, SD/SDHC/SDXC
Data formats

Image: JPEG
Video: AVCHD, MP4
Video

1 920 × 1 080 px, 50 fps
1 440 × 1 080 px, 25/50 fps
1 280 × 720 px, 25 fps
640 × 480 px, 25 fps
Stereo sound
LCD

Touch screen
Screen size 3,5" (89 mm)
921 600 px
Power supply

Li-Ion battery
Dimensions and weight
98 × 60 × 17 mm (w × h × d)
148 g (incl. battery and memory card)