Dear Week of Life members,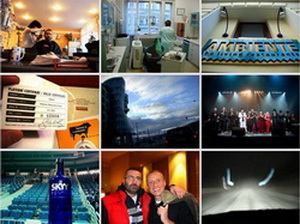 We would like to congratulate our long term member, František Ortmann, for winning 1st place in the 'People in the news' category at the 16th annual Czech Press Photo awards, a prestigious journalistic competition. He won the prize thanks to his candid photo, in which he captured Tomas Rolinek, captain of the Czech ice hockey team, standing at the very front of the bus destined for Old Town Square in Prague to greet the fans with the winning trophy from the World Championship. This prestigious award is something to be proud of, where success in this competition is a wishful dream for many photographers. Mr. Ortmann has achieved this several times during his career, deserving praise from us all.
This year, 299 photographers with permanent residence in the Czech Republic or Slovakia have entered the competition and the jury had 4236 photographs to choose from. More information about the Czech Press Photo competition can be found on the website www.czechpressphoto.cz/en.
František Ortmann, week number two
However, we have prepared something special for you, members of WoL. You will soon be able to learn more about the photograph in the Stories behind pictures section. We would like to thank Mr. Ortmann for providing us with the photograph and the story behind it.
You can find more about his work on www.frantisekortmann.eu.
We wish you a great autumnal day.
Your WoL team