In one of the last reviews of WoL we introduced the latest camera of the Olympus PEN family, the E-PL1. No doubt, our attention should be also drawn to a second PEN, the E-P2, which comes in black or silver. This all-metal camera looks like it traveled here from the 1960s. If you didn't happen to see the large LCD display on the back, you would even know that this masterpiece of photographic apparatus was digital. The reason for this is very simple: PEN E-P2 follows in a long tradition of old, analogue Pen cameras, which were announced to the public for the first time 51 years ago.
All fans of classic and clean design and all of those who happen to own one of those old Olympus Pen cameras, Nikon FM models or Leica M cameras, are sure to fall in love with the PEN E-P2 immediately.
| | |
| --- | --- |
| | |
Retro design is only one of the many highlights of the E-P2. Another aspect of its design is its very robust and precise construction. Compared to the E-PL1, it's full-metal casing gives it a sturdier, more stable feel for hand-held shooting. Additionally, the camera is equipped with a built-in image stabilization system, which is able to compensate around 4EV's. The great advantage of a built-in stabilizer is its compatibility with basically any lens that that the camera housing can accommodate. It proved very helpful during our test, too.
Similarly to the E-PL1, the E-P2 offers a standard menu, well known from Olympus DSLR models, stocked with a broad range of adjustable settings. There is also what we call a quick menu, comprised of two menu bars – horizontal and vertical. The vertical menu is there to set the exposure mode and other frequently employed modes, while the horizontal menu helps adjust the exact parameters of the chosen mode. For example: if the symbol IS is chosen in the vertical menu, it is then possible to set it to OFF, IS1, IS2 or IS3 in the horizontal menu. One great advantage of such a menu, especially with the E-P2, is its quick functionality. With the E-P2, this is thanks to two turn controls – a thumb controlled dial and the second ring around a four-way direction pad (which were both lacking on the E-PL1). Adjusting with the menu is much easier and faster thanks to these two dials.
| | |
| --- | --- |
| | |
| Electronic viewfinder | User-friendly control dials |
| | |
| Lens cap with historical  Pen F logo | Pen lens family (ZUIKO DIGITAL) |
As for the exposure modes, it is possible to set the camera to almost all modes generally known in the DSLR world: from the fully automated iAUTO mode, 19 scenic modes, 8 Art filters to fully manual modes like P, A, S, M. Apart from the photographic features, the E-P2 reveals itself to be a great video camera that even records in stereo sound. The AVI format is slightly too big in terms of required memory on the other hand it really is high quality. It was easy to edit the video with iMovie and we got great results (this software is not part of the packaging).
One issue often criticized on many internet photo discussions, is the absence of internal, built-in flash. Personally, we have not missed it at all. As Leica M7 and Nikon FM users, we are simply used to reportage photography with available light.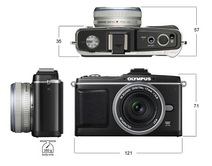 Olympus Pen E-P2 – in short

Resolution

12 Mpx

Sensor

Live MOS

Optics

Based on lens

Video

1280 × 720 px
During our test we had three lenses out of the whole actual range: basic 14-42 (equiv. 28-84mm), Pancake 17mm (equiv. 34mm) and the brilliant 9-18mm (equiv. 18-36mm).
We used either the Pancake or the wide-angle 9-18mm lens nearly the entire time. We used the basic lens very rarely even though it gave great results. The recent award from TIPA for the 9-18mm lens proved to be much deserved on account of sharpness and overall image quality rare for such a compact lens. We highly recommend it for reportage, architecture and nature photography.
| | |
| --- | --- |
| | |
Let's not forget one of the major reasons we decided to choose the E-P2 for this short test: the two new E-P2 Black kits. The E-P2 Special Black Flash Edition, which includes the black E-P2 body, black Pancake lens and a black FL-14 (both accessories, made solely for these limited editions). The second kit, the E-P2 Special Black EVF Edition contains also the black Pancake and a black version of VF-2 electronic viewfinder (with a brilliant resolution of 1.44 megapixels). Neither the black Pancake, nor the black FL-14 flash will be available separately. There was only one missing accessory we would appreciate to go with such elegant kits: a black leather strap. It might be purchased separately; on the other hand, with such limited editions it would be a nice replacement for the standard strap, which comes with the box.
Super features
Brilliant image quality
Robust metal housing
User friendly interface
Screenshots of the menu of Olympus Pen E-P2
Overall evaluation
The E-P2 camera, whether in a standard kit or in one of the two limited black editions, is a good, universal reportage camera, even fit for high society. It provides you brilliant image quality and ease of use while turning heads with its elegance.
Common price (at the time of this review being published): Body only: 849 $, Kit including 14-42mm: 899 $, Black kit with Pancake: 899 $
Basic technical data for Olympus PEN E-P2
Sensor
LiveMOS 17.3x13mm
12 Mpx (4,032×3,024 px)
Light sensitivity ISO 100 to 6400
Built in IS system

Optics
Based on lens
Memory Medium

SD/SDHC
Data Formats

Image: JPEG, RAW (ORF)
Video: AVI
Video

1280×720 px, 30fps
640×480 px, 30fps
Stereo sound
LCD

Screen size 3″ (76 mm)
230 000 px
Power Supply

Li-ion battery
Dimensions and weight (body only)
4,74"x2,75"x1,37" inches (w x h x d)
13,6 OZ (incl. battery and memory card)