There are hundreds of types of compact digital cameras on the market and many are like peas in a pod. None the less, it is possible to find interesting items in manufaturers' selections, even though they may look very inconspicuous at first glance. This is exactly the case with the Fujifilm FinePix F70 EXR.
This camera, which can be purchased optionally either in a full-silver or silver-black high-gloss coated finish, indeed looks like any common digital camera, but several important differences must be noted. Disregarding the 10x zoom with a wide-angle opening, which is a feature we are beginning to slowly get accustomed to even with such small compacts, the determining factor for the FinePix F70 is primarily the abbreviation EXR in its name.
| | |
| --- | --- |
| | |
That's because the FinePix F70 is equipped with a Super CCD EXR sensor from the same brand, which unlike common chips not only has cells in the shape of an octagon, but above all is able to work in one of three operating regimes. In HR mode (High Resolution) it photographs with an emphasis on capturing the smallest details in the image, in the DR regime (Wide Dynamic Range) it balances out high light differences in scenes with high contrast and finally in SN mode(High Sensitivity and Low Noise) it creates images even in poor lighting without any disturbing noise. It's worth noting that even though the DR and SN regimes operate with half the sensor system resolution, i.e. 5 Mpx, the results are excellent.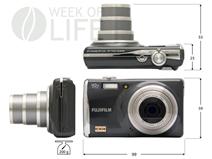 Fujifilm FinePix F70 EXR – in short


Resolution

10 Mpx, stabilized sensor

Optics

27–270 mm

Video

VGA (640 × 480 px)
FinePix F70 allows the user to activate EXR regimes either manually or leave the choice up to automatic, which according to the character and lighting of the photographed scene selects the correct HR, DR or SN mode. It is also possible to use this camera in common program automatic mode and a fully manual exposition regime is also available, although it is limited—with only two available f-stops.
A special feature of Fujifilm is the F button on the back side that provides access to a simplified menu, which, among other things, offers to set a type of "film" that is a simulation of a specific film material, naturally from Fujifilm. You can thus choose standard Provia, rich images à la Fujifilm Velvia or a soft rendering, imitating the Astia film. Other than that, it's of course possible to select sepia or black and white photography.
Super Features
RegimesEXR
10x wide-angle zoom
Elegant design and pocket size
Image stabilization
Fujifilm FinePix F70 EXR is also one of the smallest digital cameras with a 10x lens. A pleasant discovery is the wide-angle (27 mm) opening of the optics, which enables the user to fit wider space in the shot and or use the perspective of the wide focus.
You will know at once that the optics of the FinePix F70 EXR is not quite ordinary when you turn on the camera. Whereas when turned off, the lens, protected by an automatic multi-plate cover, is entirely encased in the camera body, when turned on it slides out and nearly doubles the depth of the body. The lens barrel extends even further once you zoom to maximum focal length of 270 mm using the lever by the shutter release.
Overall evaluation
Fujifilm FinePix F70 EXR is an elegant compact camera, which provides an above average quality of image output. Thanks to EXR technology, the developers managed in particular to significantly reduce the noise with higher sensitivity, which is generally a big problem with compact digital cameras. But with FinePix F70 EXR you really don't have to hesitate to photograph using ISO 800 or even ISO 1,600 and don't have to worry about creating images degraded by noise. In this case it is necessary to realize that the creators of Fujifilm FinePix F70 EXR were not afraid to reduce the resolution to half (two cells of the sensor are used to create one pixel). After all, five megapixels is still a large quantity of image data for a common photo amateur. And what's better – high resolution photographs with noise or a reasonable number of pixels at high quality?
Common price (at the time of this review's publication): 6,900 Kč
Basic technical data for Fujifilm FinePix F70 EXR
Fujifilm FinePix F70 EXR
Sensor
Super CCD EXR 1/2″
10 Mpx (3 616 × 2 712 px)
Sensitivity ISO 100 až 1 600 (in Auto regime up to ISO 12 800)
Stabilized sensor
Optics
27–270 mm F3,3–5,6
Memory medium
SD/SDHC
Internal memory 47 MB
Data formats
Image: JPEG
Video: AVI
Video
640 × 480 px, 30 fps
320 × 240 px, 30 fps
Mono sound
LCD
Screen size 2.7" (69 mm)
230 000 px
Power supply
Li-Ion battery
Dimensions and weight
99 × 59 × 23 mm (w × h × d)
200 g (incl. battery and memory card)