Thanks to digital technology, the field of photographic equipment saw the entrance of companies that had very little to do with cameras when film ruled the industry. One could name, for instance, Panasonic, Sony, and Casio. This Japanese company has long been more than just a calculator manufacturer. Among other things, Casio's portfolio features digital cameras, which are definitely not uninteresting.
Casio Exilim EX-H10 represents a compact digital camera that meets all the criteria for modern devices. It is small enough to be carried in the pocket, it is equipped with wide-angle optics with a 10x zoom range, it offers modern functions such as face detection or HD video recording, it has a stabilized sensor – it is simply one of the rather typical contemporary compact digitals.
Casio has a specific design, which is also apparent with the EX-H10 model. Asian influences cannot be denied; however it is a fully fuctional and attractive design. The camera is metal, or more accurately coated with a light metal skin and – as dictated by current trends – you can choose a finish in one of three color combinations. Conservative black and silver are complemented by a 'ladies'version' in a pink-violet color combination.
First off, let's stop at the sizeable three-inch display covering a large part of the back side of this stylish camera. Despite having a resolution of only the common 230 thousand image points, it gives an unsually good image with a high contrast and true colors. The colors match reality and later even the photograph taken, the anti-reflex layers are extraordinary and the visibility from a wider angle is excellent, too. Developers in Casio were probably very well aware of the fact that it is the primary display and must have the corresponding quality.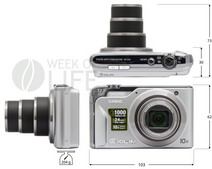 Casio Exilim EX-H10 – in short

Resolution

12 Mpx, sensor stabilization

Optics

20–240 mm

Video

HD (1,280 × 720 px)
Casio Exilim EX-H10 has only a relatively small number of controls, which are easily accessible even when shooting in thin gloves. The reduced number of buttons was achieved by using a quick menu, which is available upon pressing the SET buttton located in the center of the four-way select switch – see the first example of the camera menu.
One less common feature is the separate shutter release button for recording video sequences that can be found at the top right corner of the back side. Therefore, it is not necessary to switch between photo and video regimes – you simply use either the 'main' shutter release button at the top to take a still image or press the 'video release button' in the corner of the back side to record high quality moving sequences.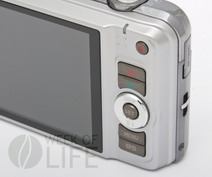 Super features
Easy operation
Wide-angle lens
Battery capacity
Large number of functions
Though the Casio Exilim EX-H10 was conceived as an automatic exposure camera (the user cannot affect the aperture or shutter speed), its equipment is well above average. Casio uses the so-called Best Shot regimes in its cameras, which are basically common motive programs, a standard feature in nearly every digital camera. But with this model, Casio offers thirty-eight programs in total, and in addition you can easily create your own.
Other than that, you will find many special functions with the Exilim EX-H10, such as the Automatic shutter. In this regime the camera exposes the image automatically depending on your settings. For example, you can set Smile priority – the camera takes a photograph when the person photographed smiles. You can also use the Shake priority, where the camera automatically captures an image when you have the firmest grip. You will find several other options in the menu.
Examples of the camera menu of Casio Exilim EX-H10
Overall evaluation
Hundreds of entertaining digital functions can never replace the primary purpose of a camera – making quality images. In the case of Casio Exilim EX-H10 you can be at peace. This camera achieves color-realistic images, which have an exceptionally large dynamic range for a compact digital. Thanks to a high resolution sensor, detail rendering is good, but be prepared that the optics has its limits, especially at the far end of the zoom. Nevertheless, for common use the quality is excellent.
Gadget-loving photographers especially will be pleased by the inclusion of various more or less useful functions. All users will be enthused by an extraordinary battery capacity, comparable to digital reflex cameras. The manufacturer claims up to 1,000 images for one charge. We reached half of this number during our tests and the energy status indicator still showed a two-thirds value. But this of course depends on how intensely you use the built-in flash.
Common price (at the time of this review being published): $228.14
Basic technical data for Casio Exilim EX-H10
Sensor
CCD 1/2.3″
12 Mpx (4,000 × 3,000 px)
Sensitivity ISO 64 to 3,200
Stabilized sensor
Optics
24–240 mm F3.2–5.7
Memory medium
SD/SDHC
Data formatsImage: JPEG
Video: AVI
Video
1,280 × 720 px, 24 fps
640 × 480 px, 30 fps
320 × 240 px, 15 fps
Mono sound
LCD
Screen size 3" (76 mm)
230,400 px
Power supply
Li-Ion battery
Dimensions and weight
103 × 62 × 30 mm (w × h × d)
204 g (incl. battery and memory card)