Jan Povýšil, Swimmer, Czech Republic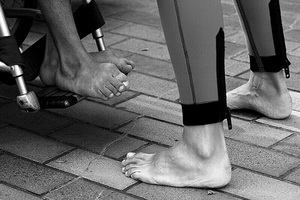 In his adolescent years, Jan Povýšil suffered an accident, binding him to a wheelchair for the rest of his life. This unfortunate matter turned his life around, but it did not take long for him to discover new things in life and he quickly acquainted himself with sports for the disabled. As an athlete by nature, he immediately started swimming and luckily for WoL, also succumbed to the phenomenon of photography. As a result, we are now able to see the world of the disabled and their sports activities in form of basketball tournaments, ice-hockey games etc. Disabled sports have become quite a popular occurrence lately and the society has been made well aware of it, especially thanks to the increasing number of disabled athletes and the Paralympic Games that first took place in Rome in 1960. (WoL)
How do you write about something that affects us on a daily basis? How do you write about life with a handicap and avoid pathos. And worst of all, how do you write about disabled sports and any kind of sports achievement without having Pavel as a surname.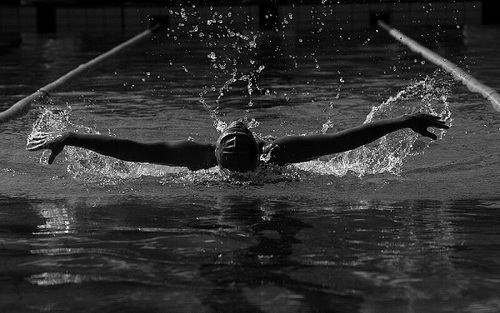 A much simpler choice would be if an unbiased outsider wrote about it. As a result, you would get a heart-breaking story full of overcoming internal barriers and obstacles in life, caused by the loss of a hand or a leg or both at the same time; or the additional tool for life in form of a wheelchair. In the end, it's life like any other and everyone has to face the consequences in their own way. I'm not Ota Pavel or Jaromír Bosák, so don't expect a wide mixture of unrelated topics here and there from a person who has spent half of his life running around the field with a hockey stick and the other half soaked in chlorine at the Podolí and Strahov swimming pools.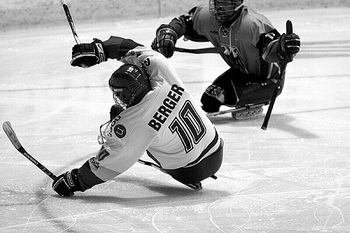 I'm not sure if I should be writing about myself, since I am not your typical example of a hard working athlete. I've always been the lazy one and trained only when I wanted and when I enjoyed it. Training ten times a week and choosing hard work as the meaning of life just doesn't do it for me. Unlucky for you, I have the most experience with myself, so you'll have to bear with me for a moment.
Becoming a professional athlete is usually a matter of an early childhood. Your parents (in my case my father) decide that you will play hockey (soccer, cycling, canoeing – fill in the blank based on your parents and your own experience). My dad decided I will play ice hockey. And my life has had a single focus point ever since – sports. Even my best photos come from a sports environment.
Up until 5th grade I had tried several sports when in 92/93 I finally ended up playing field hockey (please do not mistake it for or affiliate with any kind of obscure offshoot of hockey including floorball). Despite my father being a Sparta Prague fan, I have been involved with Slavia Prague my entire life. But only to the year '97, because that's when I returned from a trip to Italy and an Aqua Park with a cervical fracture and ended up on a wheel chair. I spent several months in hospital and then in rehab in the city of Kladruby.
"Training ten times a week and choosing hard work as the meaning of life just doesn't do it for me."
When you're 15, life doesn't change too drastically. You still have to finish school and listen to your parents. And luckily, I listened. Thanks to my parents, a whole new world opened up for me. The world of disabled sports. From previous years, I had heard some stories about Stefan Danek, the gold medalist in javelin and thanks to spending most of my time at Slavia Prague premises, I found out about Kateřina Coufalová, a swimming member at Slavia then, who became the youngest winner of the Paralympics in Atlanta. Before that, all I cared about was how well they made that new hockey stick or if the national team U'18 invitation came already (and it did).
I've always had a positive attitude towards water due to our weekend house near the river Sazava. I even spent some time playing water polo, just like my older brother. That is why I wanted to get back to water as soon as possible. I wanted to learn how to swim again to feel the freedom you only get when moving in water.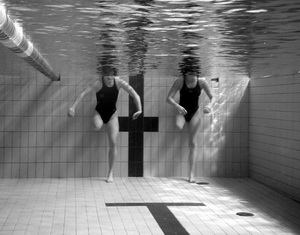 Were it not for my parents meeting Jan Nevrkla, I would have probably learnt how to swim on my own and would have ended up with a completely different sport. It was a fateful meeting. Actually, this was the fourth Jan who fundamentally influenced my life. First was Jan Lucemburský, my mom's hero. Second was Jan Werich, my dad's favorite. The third was Jan Saudek, even though at the time I first glanced at his photos, I had no idea who their author was. The fourth Jan made it possible for me to return to swimming and start competing again. He was in my life for 10 whole years.
It isn't all that easy for a disabled person to start with sports. Luckily, there was a group of professional swimmers already formed around Jan with Martin Kovář standing out. Everything was easier that way. It was all tried out before me – how to dress, how to get into the water etc. I've met so many people that I still adore today. For example Jiří Kadeřávek, in my opinion the most incredible person ever to win a Paralympics medal. A person who used to get up at 5 am just to make it in time for the morning practice at Strahov on the opposite side of the city (putting on clothes consumed most of the time). Despite ending his swimming career, his is still active; he rides the hand bike and plays wheelchair rugby for the Prague Robots.
Try and meet people in such an environment and start talking about how rough life is and that the wheelchair limits you in so many ways…
"I wanted to learn how to swim again to feel the freedom you only get when moving in water."
And that's how I got into professional Paralympics sports. Well, you can't really compare the trainings then to how I practice now. The amount of kms in the pool has increased. The training load is much higher and I am now much faster. Nowadays, when I don't have one of my lazy moments, I've got 9 trainings in water and 4 in the gym per week. Of course providing that I get up in the morning and don't snooze off in the afternoon. And that's actually the way it goes for most of the professional athletes.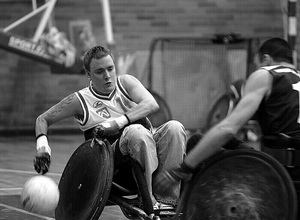 Today, when I put together the amount of trainings, my knowledge of the athletes and the sports I am involved in, I realize that I don't really know all that much. I barely have the time to read the most interesting news on specialized internet servers. Paralympic sports are experiencing a boom like never before despite some problems and negative media attention. Many disabled people are starting to enjoy all kinds of sports and new types of sport are emerging. When a disabled person decides to do sports, he or she usually tests several of them. It is often the case that after winning a Basketball match in Brno one day, he or she plays a sledge hockey game in Karlovy Vary the day after and a month from that becomes the National Champion in disc throwing. It reminds me of the 'wooden days' 60 years or more ago. Tennis in the summer, rowing during fall, and ice hockey in the winter. That is however the past, since being a professional athlete in two sports is almost impossible nowadays. And that is my problem, since swimming, photography, rehab, regeneration and starting family responsibilities don't really leave time for a second sport and I would really like to try out wheelchair rugby or golf.
"It was a fateful meeting."
All types of sports are becoming increasingly professionalized and attract the attention of the media; and this applies to our paralympic sports as well. Names such as Natalie du Toit or Oscar Pistorius are known around the whole world. And Jiří Ježek, Martin Kovář, Běla Hlaváčková – Třebínová and Anna Kulíšková are becoming somewhat known at least in the Czech Republic. The best example of a Paralympics athlete in the country is Jirka Ježek – a Paralympics gold medalist, World Champion and currently member of a professional cycling team. His attitude towards training is exemplary and so is his ability to put together such a great team of people. He is one of the few disabled athletes who were able to gain the maximum from his sports achievements and his life situation, even on the financial level.
I was never good at composition writing and during lessons of Czech; I always got away with it because I knew a great deal about literature and history. I dimly remember that each composition should have a beginning, a body, and an end. The beginning is readable, the body is extensive and confusing. And the end is virtually non-existent. Well, it's actually pretty hard to put an end to something, when I have to get up for my training tomorrow morning and all I can think about at the moment if whether Mrs. Passer will be in a good mood or not. So, anyone who wants an end to the story – meet me at Podolí in the gym at 7am, or at 8am at the swimming pool, lane number 1.